Automotive Torque Testing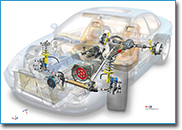 Many disciplines within the automotive community have a need to measure in-vehicle driveline torque during testing. These include engineers testing transmissions, engines, clutches, differentials, ABS and traction control systems, tires, suspension components, and active suspension systems.
Efforts to reduce emissions and improve vehicle efficiency also require accurate and non-intrusive techniques of measuring torque and horsepower. Fleet and customer use testing are emerging as important development tools for automotive engineers who want to collect real world data.
Teledyne LeCroy Test Services offers a variety of products used by automotive manufacturers and their suppliers to measure torque in these critical powertrain components.
Applications:
Transmission Development -- Engine Development -- Powertrain Torque Monitoring -- Traction Control -- Racing Vehicles -- Fleet Testing -- Customer Use Testing
Download the Brochure